JUNIORS – KG - III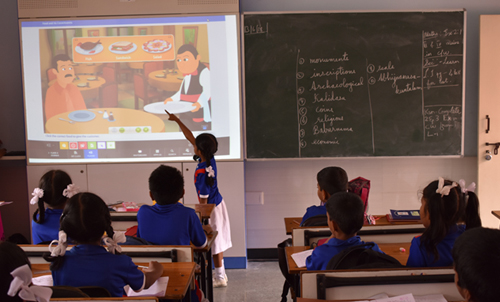 Academics
To keep abreast with the changing needs of the education scenario, teaching in St. Michaels is not just restricted to traditional methods. Hence all our classrooms from Std 1 and above are equipped with smart boards and overhead projectors to aid audio-visual learning. Each topic from each subject has been mapped to provide interesting and interactive classroom activities and multimedia presentations thus making learning a more joyful and intriguing experience.
Curriculum
Being an ICSE affiliated school, we follow the syllabi prescribed by the Council for Indian School Certificate Examinations, New Delhi. The Council does not have prescribed text books. Therefore keeping in mind that a child's experience of learning in early years has a profound influence on later learning, the books are carefully chosen for competent teaching and efficient learning.
For the KG students the focus is on personal, social and emotional development, physical and motor development, cognitive skills in Environmental concepts, basics of English language skills and Mathematics.
From Std 1 to 3, they learn a second language as well. Homework is minimal with a focus only on practice work and spellings. Children are continually assessed throughout the year. There are no round tests or exams, thus removing the stress of examinations.
Pre - School Subjects (KG Section)
Nursery
1. English
2. Rhymes
3. Mathematics
4. Art and craft – Creative skill, activity,
art work based on G.K.



LKG
1. English
2. Rhymes and story
3. Mathematics
4. EVS
5. G.K
6. Art and craft - Creative skill, activity, art work based on G.K.