Seniors - IV - X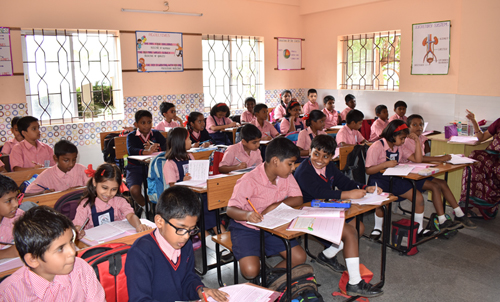 Academics
To keep abreast with the changing needs of the education scenario, teaching in St. Michaels is not just restricted to traditional methods. Hence all our classrooms from Std 1 and above are equipped with smart boards and overhead projectors to aid audio-visual learning. Each topic from each subject has been mapped to provide interesting and interactive classroom activities and multimedia presentations thus making learning a more joyful and intriguing experience.
Curriculum
Being an ICSE affiliated school, we follow the syllabi prescribed by the Council for Indian School Certificate Examinations, New Delhi. The Council does not have prescribed text books. Therefore the books are carefully chosen for competent teaching and efficient learning.
From Std 3 upwards, all students have regular library periods to have access to the thousands of story books and reference books. They are encouraged to read books for both recreational as well as research purposes. Through the library program children improve language skills and broaden their knowledge further.
To enable better understanding of the concepts being taught, students of Std 6 and above are also taken to the science laboratories on a regular basis.
In an endeavor to inspire children to use their creativity and develop other skills as well, students of Std 5 and above involve themselves in different clubs like the Math and Science club, Art and Craft club, Nature club, Literary club, Quiz club, Karate club and Sports club.
Value Education / Bible studies
In the changing scenario of new millennium, our endeavor is to shape the destiny of India in her classrooms. Hence children are introduced to value based education by incorporating into their curriculum with an aim to build character, promote integrity and behavior that is beneficial to the society at large. Christian children attend Bible Study classes whereas non - Christians attend Moral Values classes.
Class IV
1. English – Literature & language
2. Kannada - II language
3. Mathematics
4. Science
5. Social studies
6. Computers
7. Arts education (Art and craft and music)


Class V
1. English – Literature & language
2. II language
3. III language
4. Mathematics
5. Science
6. Social studies
7. Computers
8. Arts education (Art and craft and music)
Secondary School - Class IX and X
Students have the option to choose from either Science Group subjects or the Commerce Group
Science stream students study the following subjects
Group I
1. Literature & Language
2. II Language
3. History and civics
4. Geography
Group II
1. Mathematics
2. Physics
3. Chemistry
4. Biology

Group III
1. Computer applications / Home Science
Commerce stream students study the following subjects
Group I
1. Literature & Language
2. Kannada
3. History and civics
4. Geography
Group II
1. Commercial studies
2. Economics



Group III
1. Home science / Computer applications
In addition to the above, the following should be taken up at the Senior level – IX and X
Socially useful productive work and community service - IX and X
Boys learn screen printing
Girls learn embroidery and basket making